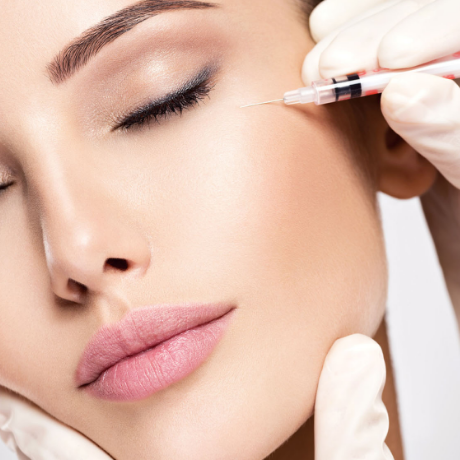 Mesotherapy Treatment in Scottsdale, AZ
also serving Phoenix, Tempe, Mesa, Gilbert, Chandler, Glendale, and surrounding areas
Mesotherapy is a very effective and affordable option for facial rejuvenation. This treatment consists of micro injections directly under the skin with very fine small needle.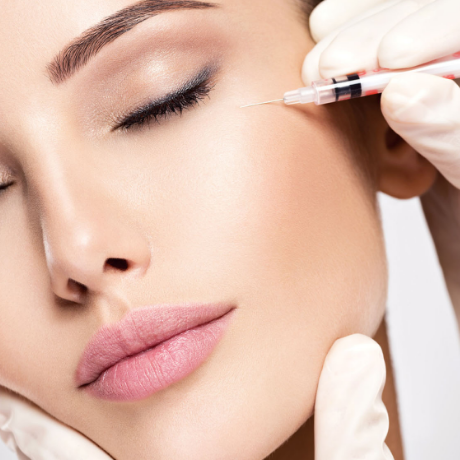 1ml mesotherapy skin rejuvenation
$75
What is mesotherapy?
This treatment is a very effective and affordable option for facial rejuvenation. Procedure targets very superficial layer of the skin, epidermis, stimulating production of new skin cells, keratinocytes, resulting in blighter, more radiant, hydrated and youthful complexion. Think of this treatment as vitamin infusion for your skin. Procedure was discovered by French dermatologist who coined the term based on Greek word  meso meaning middle and referring to mid layer of the skin between dermis and epidermis, where keratinocytic stem cells are located. The vitamin rich products, enriched with plant stems cells, plant extracts, hyaluronic acid and other co factors, are delivered to these stem cells, resulting in skin rejuvenation. This cosmetic procedure consists of micro injections directly under the skin with very fine small needle.
How mesotherapy works
This treatment is a very effective and affordable option for facial rejuvenation. This treatment consists of micro injections directly under the skin with very fine small needle. Mesotherapy needles are specifically designed to deliver the product to mid layer of the skin, causing minimal trauma. Even for someone, who doesn't feel comfortable around needles, cosmetic treatment typically does not cause any significant discomfort. The magical cocktail injected into your skin contains various vitamins, amino acids, plant stem cells and plant DNA to stimulate collagen production, and deeply nourish your skin to boost its radiance, correct pigment disorders, improve hydration level and correct fine lines. We use superior product imported from Paris, France to deliver the best result for our clients.
Treatment of melasma with mesotherapy
Mesotherapy treatment one of the few options that is safe to treat melasma. We use mesotherapy cocktails with glutathione and vitamin C to brighten the skin and suppress melanocyte function. This treatment has not shown to be effective for stretch marks or acne scars. We recommend to try other services we offers, such as resurfacing laser treatments and PDO threads.
TYPES OF MESOTHERAPY TREATMENTS
At Desert Bloom Skin care we offer mesotherapy treatments for only face and neck rejuvenation. Procedure for the face is recommended as age prevention treatment for patients 25 – 45 years old. Keep in mild this treatment will not erase existing static lines, but will help to deeply hydrate the skin and prevent wrinkle formation. We love pairing mesotherapy treatments with other aesthetic injectables, such as PDO threads, dermal fillers, and neurotoxins.
Mesotherapy treatment plan for your skin
For optimal results, we recommend series of three treatments, with one treatment every 5-7 days. Best age to start mesotherapy treatment, to prevent premature aging, is in late 20s, early 30s, however, any client 25 years or older can benefit from this deeply nourishing treatment. The treatment requires no downtime, typical side effects include minor bruising, mild redness and minor bleeding at the injection site. This treatment can be performed on the face, neck, chest or hands. 1ml of mesotherapy solution is typically enough to perform the whole face treatment. Additional 1 ml is needed for neck and chest rejuvenation. Schedule your complimentary consultation to discuss mesotherapy treatment plan for your skin.
Post treatment recommendations
Overall, mesotherapy treatment can serve as a great introduction to injectable treatments of aesthetic medicine. It will help to improve and maintain skin health and quality. Immediately after the treatment expect mild redness and visible small bumps from injection sites, which will resolve after 15-30 minutes post injections. We recommend not to exercise or expose your face to heat, not even hot water, for 48 hours post injections. Make up is also not recommended for the first 24 hours, to minimize risk of secondary injections. Please call us with any questions about procedure or skin rejuvenation (480) 567-8180
Why we do not recommend mesotherapy for body contouring
We do not offer this treatments for body contouring, fat reduction and weight loss. We believe there superficial injections, containing caffeine and plant extracts, are not as effective as proven localized fat removal treatments, as Cool Sculpting or True Sculpt, for example. Injection lipolysis is effectively achieved with Kybella injections, or its generic alternative PCDC. These injections can provide effective reduction of small amounts of fat deposits, but should never be used as a fat loss remedy. Keep in mind, Kybella injections will cause significant swelling, so please count on 14 days of downtime, when booking these treatments.
Why needless mesotherapy and home mesotherapy devices are inferior or even dangerous?
We also do not support needles cosmetic treatment, as they just as effective as traditional facial treatment. We believe HydraFacial treatment can deliver just as great results and cost less than highly advertised and in our opinion overrated needles mesotherapy treatments. We also do not recommend using face rollers, or guns, especially at home, as these rollers and machines cannot be properly sterilized and can become a source of terrible injection. Injections guns can also cause significant injury of the tissue and should only by certified medical professional. At our office we prefer to use sterile single used syringes, which are disposed immediately after the treatment. We also use sterile single use mesotherapy needles and sterile single use Aquagold device, all FDA approved for dermal injections.
We offer monthly specials for selected facials, to find those special offers please use the form below to subscribe to our emails or call us.