Achieve a youthful look non-surgically
Are you tired of looking older than you feel? A Microcurrent non-surgical face lift at Desert Bloom in Scottsdale may be the solution you're looking for.
Imagine having a more youthful and refreshed appearance without the need for surgery. This non-invasive procedure uses microcurrent technology to lift and tone the skin, resulting in a more defined jawline, reduced wrinkles and a more youthful appearance.
Don't wait any longer to achieve the youthful look you desire. Visit our clinic Desert Bloom in Scottsdale today and schedule your appointment for Microcurrent non-surgical face lift.
About Microcurrent facelift
Microcurrent Non-Surgical Face Lift is a cosmetic procedure that uses low-level electrical current to stimulate the muscles and tissues of the face, resulting in a tightening and toning effect. This procedure is used to improve the appearance of sagging skin, fine lines, and wrinkles.
The cost of a single Microcurrent Non-Surgical Face Lift treatment is $110, packages for 5 and 10 procedures are also available. It takes 45 minutes for the procedure. Recovery time is minimal, with most patients returning to their normal activities immediately after the procedure. There are no side effects after microcurrent procedure as it is suited for most sensitive skin types.
How microcurrent works
Microcurrent technology works by delivering impulses of mild electrical currents deep into the skin's surface. This triggers the healing response because the skin cells sense that the tissues have been injured and the body begins to produce more and more cells in order to heal this 'injury.' This then boosts collagen production deep within the skin's surface and encourages the skin cells to heal and repair themselves naturally as they reproduce to heal the injured site.
Clinical studies show that microcurrent facelift procedures trigger the production of amino acids, the body's natural building blocks which are involved with accelerating cell production and repair. This means that cells can be restored and the body can start producing healthier skin cells in a very short period of time.
Result can be seen after only one procedure but for longer lasting result we recommend to complete a series of 5 to 10 treatment, depending on a skin condition and health of a patient.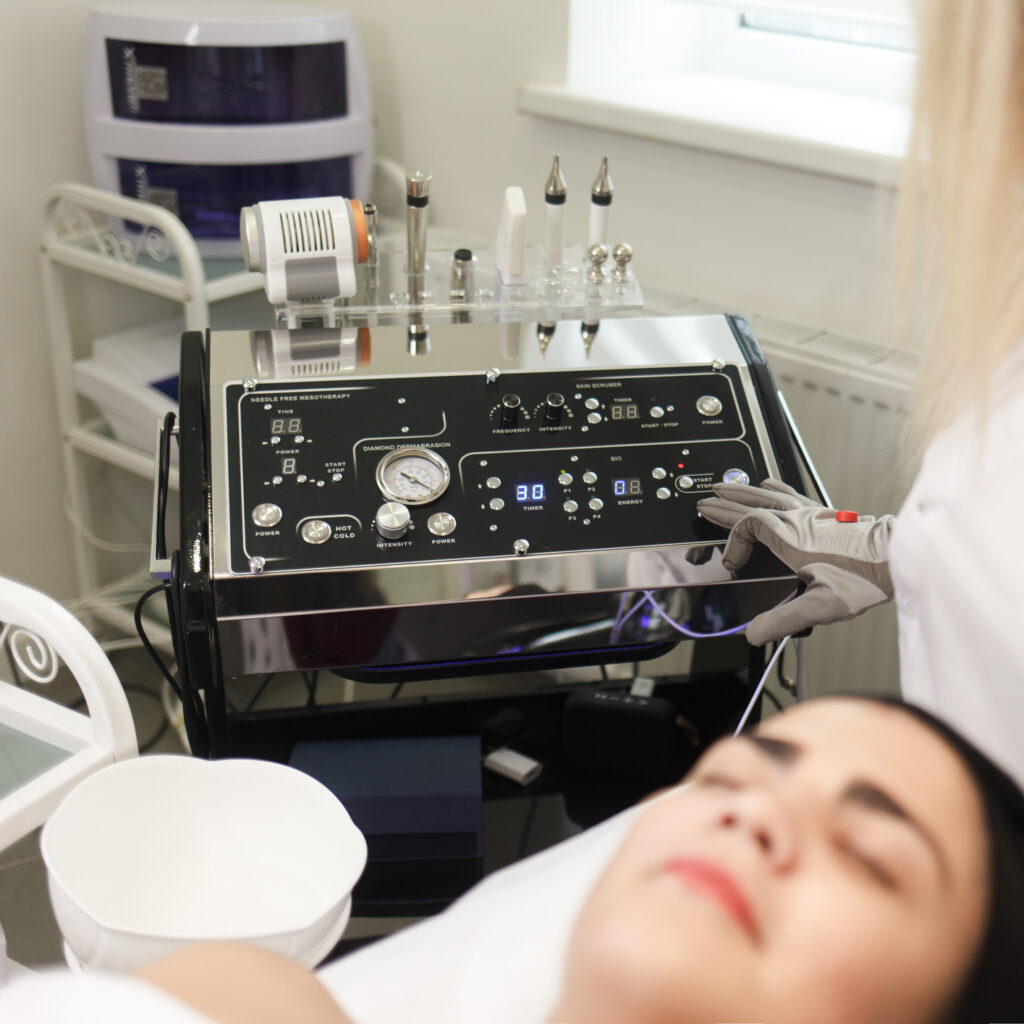 Consultation in skin care clinic
Desert Bloom Skincare Center offers personalized skincare consultation to help you achieve a flawless and radiant complexion. Book your appointment today and let our expert team of skincare professionals address your specific concerns and help you reach your skincare goals.