Breathe new life into your skin
Are you looking for a way to achieve a revitalized and refreshed appearance in Scottsdale? Look no further than our Pure Oxygen Soothing Facial at Desert Bloom.
Our trained estheticians will infuse your skin with pure oxygen and a custom blend of antioxidants and anti-inflammatory ingredients to calm and soothe your skin. This treatment will help to reduce redness, inflammation, and promote a healthy, youthful-looking complexion.
Don't wait any longer to achieve the revitalized and refreshed look you desire. Visit our clinic Desert Bloom in Scottsdale today and schedule your appointment for our Pure Oxygen Soothing Facial.
About Pure oxygen soothing facial
A Pure Oxygen Soothing Facial is a cosmetic procedure that uses pure oxygen to deliver a concentrated dose of active ingredients to the skin, providing hydration and nourishment, it also helps to reduce redness and irritation. This procedure includes facial massage and various other techniques to ensure the skin is properly cleansed, exfoliated, and moisturized.
The cost of a Pure Oxygen Soothing Facial is $100, it takes 60 minutes for the procedure. Recovery time is minimal, with most patients returning to their normal activities immediately after the procedure.
There are no side effects from this treatment as it is suited for most sensitive skin types.
How Pure Oxygen soothing facial works
This powerful Oxygen treatment is specially formulated for mature and sensitive skin. Oxygen enriched professional products will gently clean your skin, followed with lifting and toning massage and completed with cool soothing vitamin Oxygen mist, that will help to fight, sun damage, aging and dehydration. This treatment will deliver 87 vitamins, minerals, enzymes and amino acids to the skin and strongly recommended to all Arizona residents.
Oxygen treatment is a new technology in the skin care industry but is becoming more and more popular. Success of this treatment lies in wonderful healing power of this chemical. Patients with different skin condition can benefit from this treatment. For example, oxygen treatment is highly recommended for post microdermabrasion or chemical peel procedures to help healing process.
Healing power of oxygen was first discovered by accident when doctors noticed that patient's skin will heal a lot faster around an oxygen mask. OxyceuticalsTM skin care system is very beneficial for everyone who's looking for healthier, smoother, more radiant and hydrated skin.
Desert Bloom skin care center offers newest equipment ECHO2PlusTM to deliver the purest Oxygen and the most effective treatments.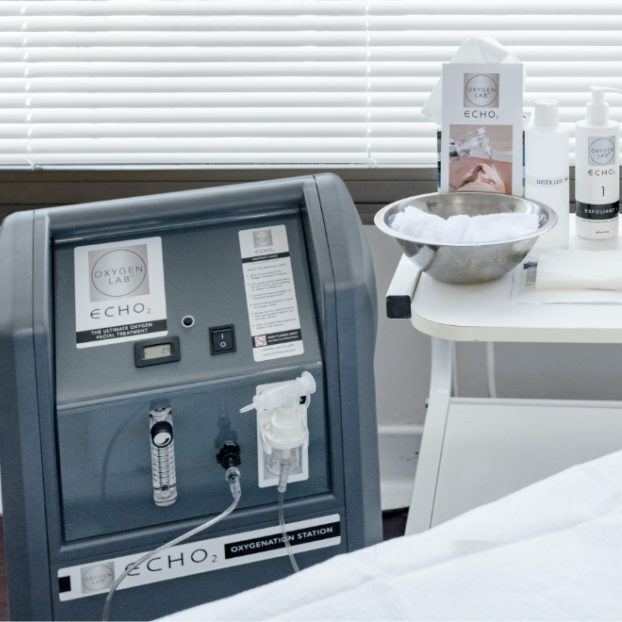 Consultation in skin care clinic
Desert Bloom Skincare Center offers personalized skincare consultation to help you achieve a flawless and radiant complexion. Book your appointment today and let our expert team of skincare professionals address your specific concerns and help you reach your skincare goals.