Revitalize your skin and boost collagen
Are you looking for a non-surgical solution to improve your skin's texture and tone? Look no further than our Plasma Pen treatment at Desert Bloom in Scottsdale.
This state-of-the-art procedure uses plasma energy to stimulate collagen production, resulting in tighter, smoother, and more youthful-looking skin.
Don't wait any longer to achieve the flawless skin you've always wanted. Visit us at Desert Bloom and schedule your Plasma Pen treatment today.
About Plasma Pen
The cost of a Plasma Pen treatment varies depending on the areas being treated, but it can range from $300 to $1000.
It takes around 60 minutes for the procedure. Recovery time varies depending on the individual, but generally, the skin will be red, swollen and will have some small crusts (scabs) for a few days, and there may be some mild peeling or flaking.
It's important to follow the post-treatment instructions given by the practitioner to avoid any complications, and to protect the skin from sun exposure during the recovery period.
How Plasma Pen works
Plasma Pen skin tightening is a new revolutionary method to eliminate wrinkles and sagging skin. This minimally invasive treatment uses high intensity spark to instantly evaporate skin, creating small carbon dots. This process creates instant tightening of the skin, which lasts for couple years. Keep in mind, we cannot stop your skin from ageing, so great anti-ageing skin care is essential to preserve the results created by Plasma Pen.
Ideal candidate is a man or woman with visible wrinkling and loose skin, Fitzpatrick skin tone I-III. Clients with darker skin tones will need individual evaluation to be considered for Plasma Pen procedure. Other contraindications include history of keloid scarring, poor wound healing, presence or history of chronic disease, such as diabetes, and pregnancy.
The treatment causes minimal discomfort and recovery time is less than a week. This procedure can treat gentle skin around the eyes, eliminating drooping of the eye lips, and fine lines on the lower eye lid and crow's feet. Other areas include forehead, mouth, neck, abdomen, chest and so much more. Please review our before and after gallery to see what Plasma Pen can do.
Plasma Pen skin tightening is a direct alternative to plastic surgery and has gained huge popularity throughout Asia and Europe. However, it is just being introduced in United States. If you are considering Plasma Pen treatment, check if your practitioner is board certified aesthetician or medical professional. All professionals at Desert Bloom Skincare are board certified.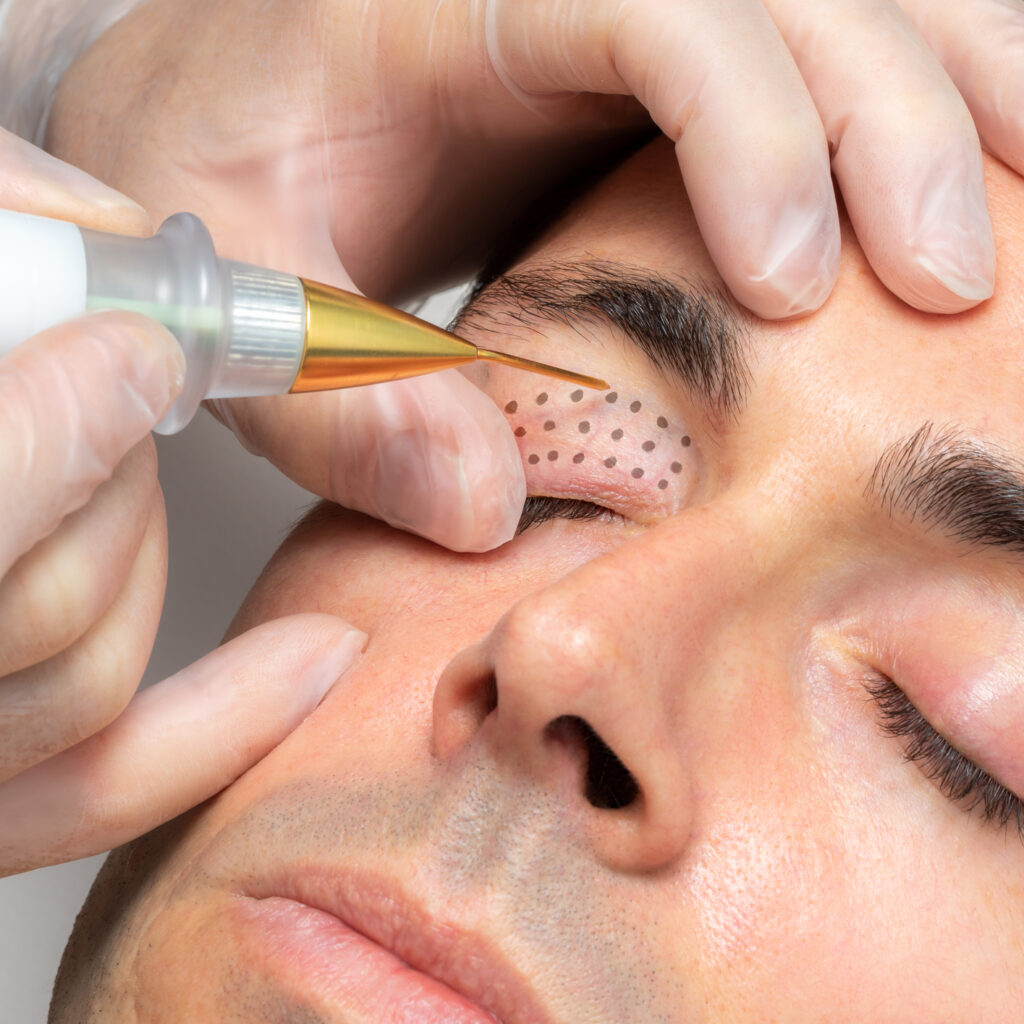 Consultation in skin care clinic
Desert Bloom Skincare Center offers personalized skincare consultation to help you achieve a flawless and radiant complexion. Book your appointment today and let our expert team of skincare professionals address your specific concerns and help you reach your skincare goals.