Get a Youthful Look with PDO thread Lift in Paradise Valley
If you're looking for a PDO thread lift in Paradise Valley, consider visiting the Desert Bloom Skincare Center located in Scottsdale, AZ. So, if you're ready to get a more youthful look, schedule a free consultation with us today!
Article's contents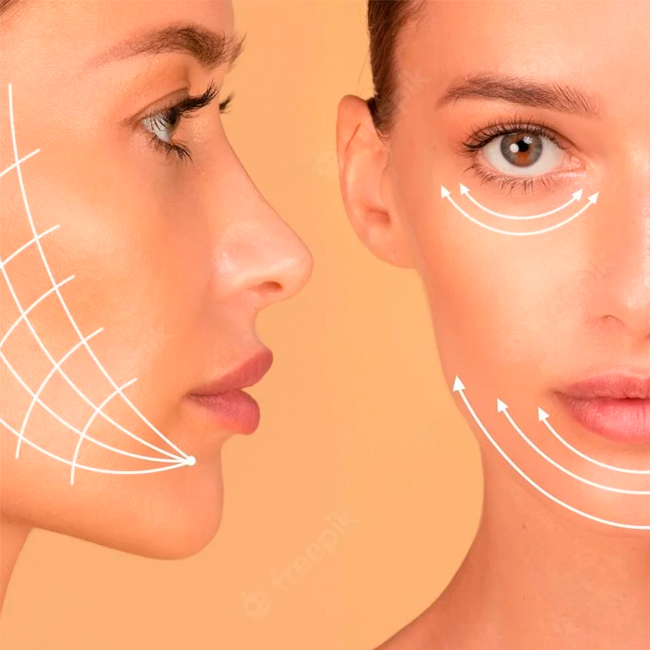 What is PDO Thread Lift?
PDO Thread Lift is a minimally invasive cosmetic procedure that uses Polydioxanone (PDO) threads inserted under the skin in treated areas to lift and tighten sagging skin, reduce the signs of aging, and stimulate the production of collagen. This FDA-approved treatment is available in Paradise Valley and Scottsdale, AZ, and can produce immediate results with minimal complications when performed by a board-certified plastic surgeon using local anesthetic. It is an excellent alternative to botox, dermal fillers, and other non-invasive treatments such as microneedling, facials and chemical peels.
Benefits of PDO Thread Lift
PDO Thread Lift offers several benefits such as improving skin elasticity, reducing wrinkles, fine lines, and sagging skin. This non-surgical procedure is suitable for treating various areas of the face, including the brow, jowls, and neck, and can also be combined with other treatments such as Dysport, Juvederm, Radiesse, Sculptra, Kybella, Restylane, Platelet Rich Plasma (PRP), and Ultherapy. Additionally, PDO threads can stimulate collagen production and improve skin texture. The treatment involves minimal downtime, and patients can resume their daily activities immediately after the procedure.
PDO Thread Lift Procedure at Desert Bloom Skincare Center
At Desert Bloom Skincare Center, our experienced skincare professionals provide the PDO thread lift procedure to lift and tighten sagging skin on the face and neck. Dissolvable threads are inserted under the skin to provide support and lift, resulting in a more youthful appearance that can last up to two years. During the procedure, local anesthesia is used to minimize discomfort, and a consultation with one of our specialists is provided beforehand.
Recovery and Side Effects
Maintaining proper post-procedure care is essential for minimizing side effects. While PDO thread lift is a minimally invasive procedure with minimal downtime, some common side effects may include swelling, bruising, and soreness for a few days after the procedure. Patients should avoid strenuous exercise and certain activities for at least 24 hours after the procedure to ensure optimal healing. It is important to follow all post-procedure instructions provided by your doctor to ensure proper healing and long-lasting results.
Why Choose Desert Bloom Skincare Center
Choosing the right skincare center is crucial for achieving the best results with PDO thread lift. At Desert Bloom Skincare Center, we understand this and strive to provide our clients with personalized consultation and treatment plans that cater to their unique needs. Our experienced professionals specialize in PDO thread lifts and use only high-quality products and techniques that adhere to the highest safety standards. We are committed to ensuring a comfortable and relaxing environment during your treatment process, as well as providing follow-up care to ensure optimal results and client satisfaction. Trust us to help you achieve a rejuvenated, youthful look with our PDO thread lift services in Paradise Valley.
Schedule a Free Consultation Today
Get started on the path to a more youthful appearance by scheduling a free consultation for thread lift today. At Desert Bloom Skincare Center in Paradise Valley, our experienced specialists will assess your skin, discuss your goals, and answer any questions you may have about the procedure. During the consultation, we'll explain the procedure in detail and provide information on aftercare and recovery so you can make an informed decision about whether thread lift is right for you. Don't wait – schedule your consultation now!
Conclusion
PDO Thread Lifts are a popular cosmetic procedure that can help you achieve a more youthful look without undergoing invasive surgery. At Desert Bloom Skincare Center, our experienced specialists provide top-quality thread lift services in Paradise Valley. The procedure is safe and effective, with minimal downtime and side effects. If you're interested in learning more about PDO thread lifts or scheduling a free consultation, contact us today. Take the first step towards a younger-looking you and book your consultation now.